Anchor point
Kaohsiung Museum of History's "Image of Kaohsiung Online Exhibition" Features 21 Art Works
Post date:2021-06-28

Update:2021-07-26

549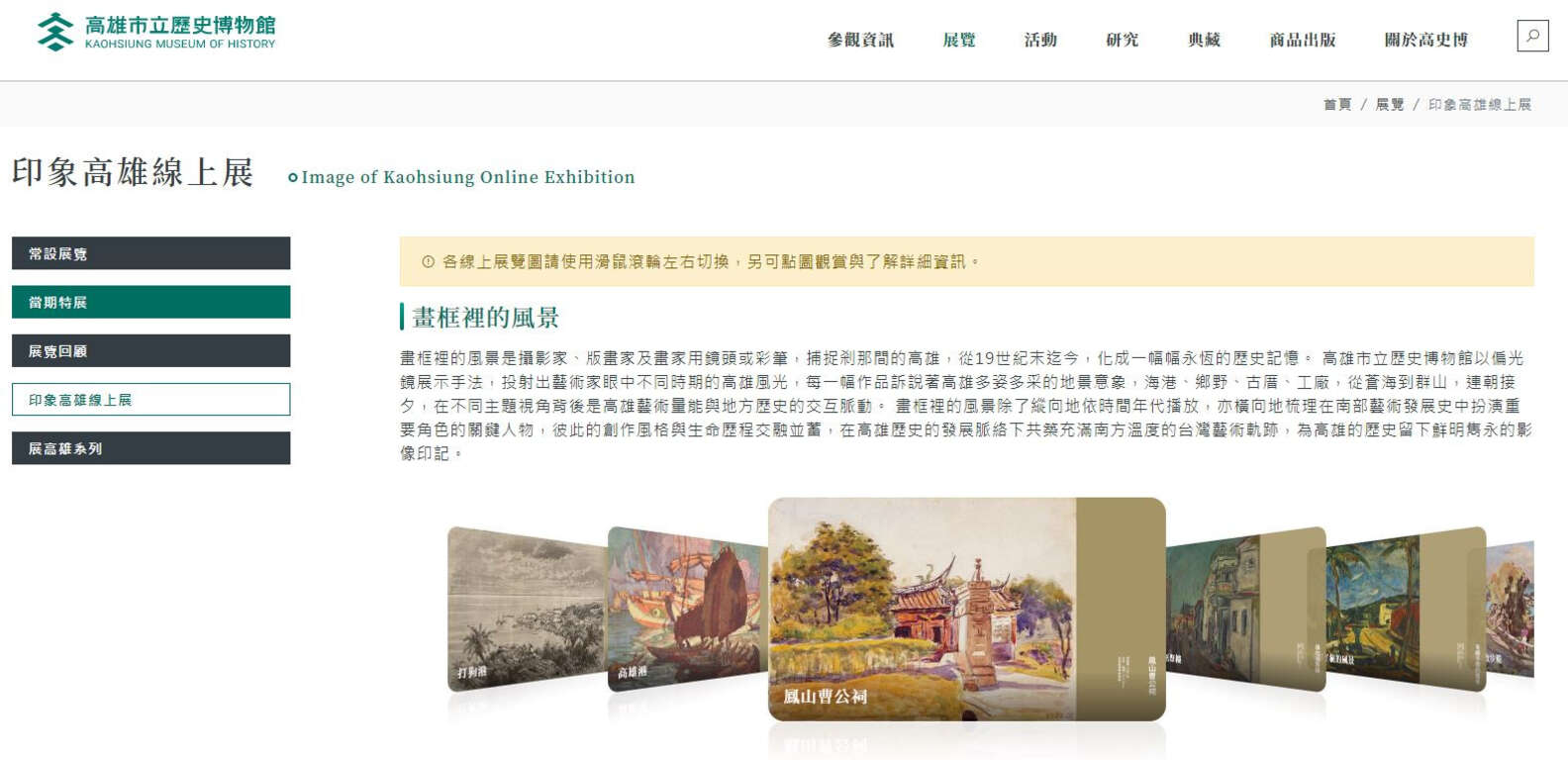 Since the launch of "The History of Kaohsiung" by Kaohsiung Museum of History, the first zone, "Image of Kaohsiung", which presents classic old photos using the polarization method, has received good response. The Museum has been closed due to the pandemic this year (2021), and during the period of closure, 21 art pieces created by various artists were featured, and the "Image of Kaohsiung Online Exhibition" was also launched concurrently. The public is able to view the scenery of Kaohsiung in different periods both online and offline.

"Image of Kaohsiung Online Exhibition", with the theme, "Kaohsiung in Picture Frame", selected the works of 21 iconic artists since the late 19th century, including John Thomson, Ishikawa Toraji, Qi-hua Zhang, Chi-chun Liao, Ozawa Shusei, Chin-ling Liu, David Chen, etc., from the collections of Kaohsiung Museum of History, Taiwan Soka Association, Kaohsiung Museum of Fine Arts, and Taipei Fine Arts Museum, enabling visitors to learn about the humanities and landscape of Kaohsiung.

Each piece of work describes the diverse landscape of Kaohsiung, such as harbor, countryside, old houses, factories, sea and mountains. The scenery within the picture frame represents the moments of Kaohsiung captured by the photographers, printmakers or painters through their lens or brushes, forming eternal historical memories since the late 19th century.

Besides a chronological display, key figures who have played important roles in the development of the art history in southern Taiwan are also featured. In the course of the development of Kaohsiung, they jointly built an art trail filled with the warmth of southern Taiwan, leaving a vivid and timeless impression in the history of Kaohsiung.

According to the director of Kaohsiung Museum of History, Yu-Fong Wang, the Museum has abundant research resources for local studies, and its official website has gradually been updated and a learning information zone built. Besides launching the "Image of Kaohsiung Online Exhibition", it has also digitized Kaohsiung documents, Kaohsiung stories, research results, etc., while adding "Kaohsiung Learning and Audio-Visual Zone", "Online Building Tour" and "Series Exhibitions of Kaohsiung Districts - Exhibition Special", enabling the public to visit the Museum and read about Kaohsiung local studies comfortably at home.