Anchor point
Which Animal Has a Soft Spot in Your Heart? Let's Find Out All about Love in the Shoushan Zoo!
Post date:2022-03-14

Update:2023-05-15

681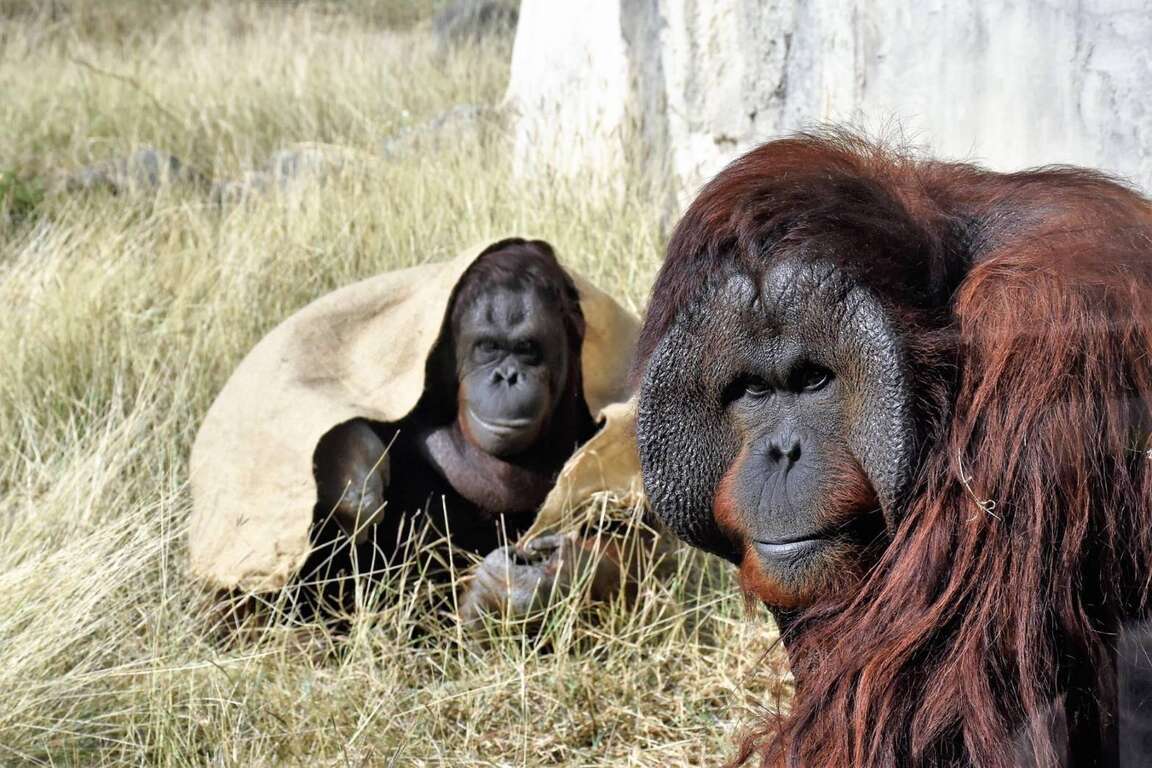 When the White Day is near, it is also a time when Shoushan Zoo likes to open up on the world of affection among animals: the orangutans "A Hung" and "Mimi" are no more than a screen couple; on the contrary, the white-handed gibbons share among them an admirable romance of their sunset years. The Zoo has also revealed the lesser-known sides of animals such as the grumpy chimpanzee "Li Chung", the Blue-and-Yellow Macaws who sway between friends and foes, the pygmy hippopotamuses who fall in love at first sight, and the lovelorn white rhinoceros "Hsi Chi". The orangutan "Mimi" becomes the "Talk of the Town" at every exposure.



Alas, come White Day when she needs to clarify everyone that she and "A Hung" are simply "professional on-screen lovers". "A Hung" would have still been a quiet boy, sticking his head into the sack all day, had "Mimi" not arrived at the Zoo. "A Hung" has tried to woo "Mimi" with all kinds of tricks he could think of, however to no avail as the orangutans are but a lone species.

On the contrary, the old, white-handed gibbon "Babe" has "Yoyo" to keep her company and has everyone green with envy. "Babe" and "Yoyo" gained the spotlight with white fur on their limbs, which together with black fur on their faces made their mark at the Zoo. Since "Babe" received root canal treatment in 2019, she has 4 new flashy silver teeth added to her smiley face, and now she can eat all the fruits that she likes, swinging around with "Yoyo" in delight.
Turning to the chimpanzee "Li Chung", who has a slightly hot temper; he can only be with either of the two female orangutans, "Man Hua" or "Mei Chen", at any one time to avoid jealousy among the ladies. The pig-tailed monkey paints a totally different picture, with monkey girls draped on each arm and having a headache in considering who to please; when the pig-tailed monkey frowns, there is sure to be some intimidation and aggression. Spot the crimson faced stump-tailed macaques – they are an old couple who live together but go around independently so you can never catch them within one frame.

The Blue-and-Yellow Macaws "BOSS" and "Lao Pan" have a love-hate passion towards each other; being the social animals that they essentially are, macaws have a powerful voice, and a strong reliance on their buddies. The South American coati "Woody" has mated with two female coatis to grow a big family, and the same happens to the Barbados blackbelly sheep. Look over to the alpaca "Cool Bro" and you will find that he has too many girls keeping him busy, considered improper but not in his animal's world. In Shoushan Zoo, to ensure animals are reproducing adequately, a little help goes a long way.



The Taipei Zoo loaned their pygmy hippopotamus "Chiu Chi", who has been making his move towards "Chun Yuan" from the Taiwan Sugar Corporation's Chinshang Pastoral Farm Resort here in Shoushan. In 2019, they welcomed their baby "Yuan Pao". Also from the Taipei Zoo is the white rhinoceros "Hsi Chi", who has tried every effort in courting the 25-year-old mother rhino "Pao Pao" but to no avail. Such are the interesting love stories at the Zoo, happening day-to-day, even during the period of renovation closure. Shoushan Zoo now extends their welcoming hands to members of the public in a call for animal adoption.


Like and follow Shoushan Zoo's Facebook and Instagram account to get updated on what's happening daily with animals at the Zoo! For details, please check the Shoushan Zoo's Facebook page.