Anchor point
Fishing flags and sand sculptures lighting up the Cijin Commercial District, are the clarion call for "Cijin the Samui Island"! Kaohsiung Beer Rock Carnival and Black Sand Festival are about to come up to rock your summer fun in Cijin.
Post date:2022-06-24

Update:2023-05-15

448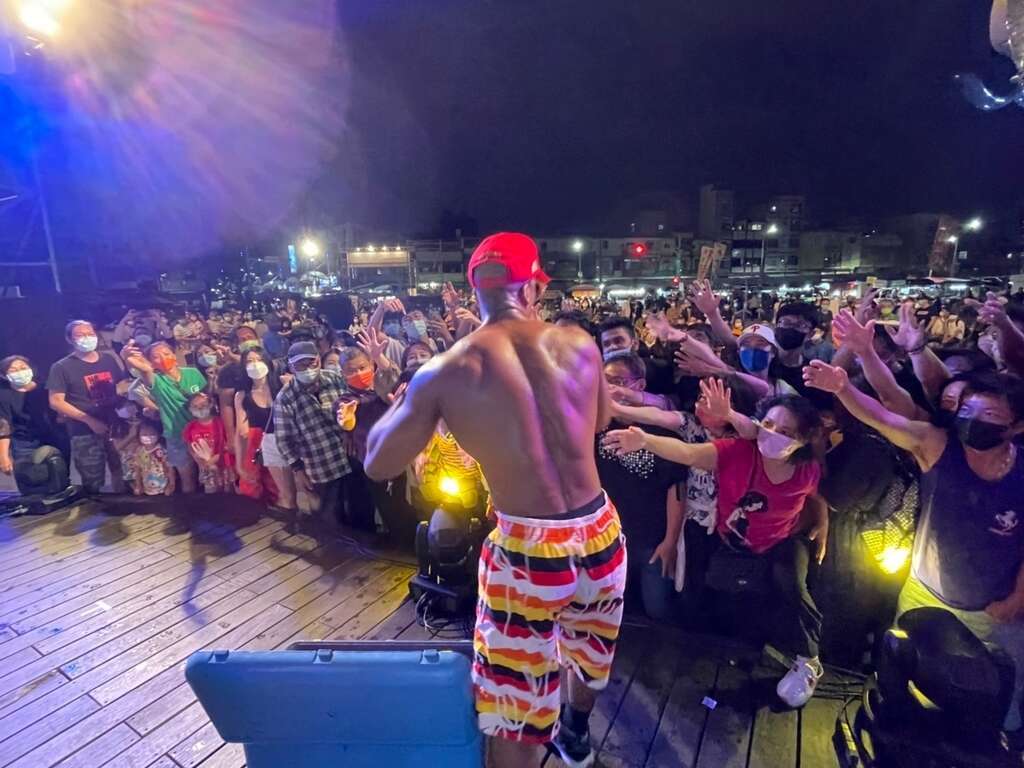 Summer has arrived in Cijin, Kaohsiung. Cijin, with its sunshine, beaches and the cool of the ocean breezes, is waving welcome hands to tourists from across the country. With fishing flags hung up all over the Cijin Street recently, two exquisite sand sculptures are situated in the open field beside the Cijin Tianhou Temple. One is a girl riding whale, representing Cijin with "riding a whale" (in Chinese, it's pronounced " Qí jing", mostly the same as Cijin District), while the other is a French Bulldog clenching his fist with the saying "Let's support Cijin together". By the side of these, lies a sand play area for kids and for parents to check-in on social media. With all of these, it was officially announced that 2022 Cijin Black Sand Festival and Kaohsiung Beer Rock Carnival will take place on July 9th and July 16th, respectively. The Tourism Bureau of Kaohsiung City Government will collaborate with local businesses, hotel & tourism industry and specialty stores to create a vibrant festive atmosphere as Samui Island, with the exotic island atmosphere that tourists from all over the country enjoy!
The fishing flags flying on Cijin Street are produced collaboratively by the local business, Kaohsiung Printing & Dyeing Factory. These 125 fishing flags not only address their magnificent feature, but the commercial district is also embellished with their rich colors. Many tourists are attracted by them to take pictures and check-in on social media. In addition, the sand sculpture pattern representing Cijin with a girl "riding a whale" is designed creatively by Adam Hsu (許常德), a well-known music lyricist and producer. As a "Qizi" (adopted son) of Matsu in Cijin Tianhou Temple since he was a child, he welcomes people across the country to Cijin to taste delicious food, get refreshed by the sea breeze and enjoy their vacation. "Thanks to the city government for supporting Cijin. I am very glad to have lots of fishing flags flying on the street and giving this place a special look; they draw the attention and show the great importance with large-sized fishing flags. This is the true color of Cijin. With the Black Sand Festival and Beer Carnival taking place in Cijin, we are delighted to see a large number of tourists coming to the local commercial district!" said Yu Hong Chen (陳昱宏), chairman of the Cihou Commercial District Development Association.


The Tourism Bureau stated that this year, Cijin Black Sand Festival's theme is an animal carnival party. On the 9th of July you will be welcomed by the sand sculptures exhibition of the zoo's star animals. The exhibition serves as a warmup for the reopening zoo in the coming future. On top of that, by creating an island holiday atmosphere as from abroad, beach parasols, Instagrammer deck chairs and artwork installations will be set up as check-in points on the site to ensure the exotic atmosphere with its beauty and romance. These good vibes will encourage people visiting Cijin to take countless breathtaking photos as Instagrammers. On weekends, a variety of activities such as the sand sculpting experience, loved by both parents and kids, interesting sports games, real world puzzle solving, stunt kite performances and exciting beach volleyball are waiting for you. The summer in Cijin is full of joy and laughter, ideal for a family trip.

The Tourism Bureau further explained that the Kaohsiung Beer Rock Festival, which has been held for many years, has always been a must-attend event in summer for numerous people. However, it was suspended in the past two years due to the pandemic. The Tourism Bureau took the lead by holding the Kaohsiung Beer Carnival this year, aiming to promote tourism development in Cijin. From July 16th to August 13th, different themed activities will be held in Cijin each Saturday for five consecutive weeks. Cooperating with Cijin Sunset Bar, which is very popular among domestic and international tourists, brings a theme party to the next level. From seafood and beer to the night party, you can chill till late night in Cijin. After the great success of the "SUPER TIGER ARTIST", B.T.O.D is once again invited by the Tourism Bureau to perform the theme song "And Your Smile" they composed for Kaohsiung Beer Carnival this year. They consider Kaohsiung as the most suitable place to drink beer all year round. With this song they hope to attract people to visit Kaohsiung, invite people to sip beer on the beach with the sea breeze blowing, and enjoy the amazing summertime with a smile.


The Tourism Bureau reminds people not to drink and drive. This festival also cooperates with In Young Hotel, one of the high-quality hotels in Cijin, and Cijin Luxury Campground, launching various accommodation discounts for those who are interested in it. This attracts people to Cijin not only for a short visit, but also to stay overnight to have a more complete experience in "Cijin the SamuI Island". Please seize the opportunity to book your own accommodation, and plan a trip to Cijin, guaranteed to be the best trip ever with delicious food, incredible fun, breathtaking photos and enjoyable vibes! Please visit Kaohsiung Travel website for further information on the latest events and promotions.